The Core Shell 1.4 update improves the visibility of colorful text, built-in 8 new themes, and fixes bugs.
Added
Theming
Eight built-in color schemes that can be chosen from host settings:

Duplicate Connection
This feature was suggested by Carlos Soza, it's handy when you want to open multiple connections on a same host.
Press ⌘ D or select Duplicate Current Shell from Main Menu > Shell will open a new connection on the host of current active shell, in the new tab next to the current shell.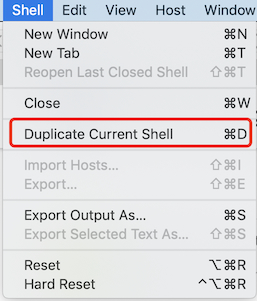 Changed
Visibility of Colorful Text
Previous versions of Core Shell may hurt your eyes on Dark mode:


With version 1.4, the text color is slightly adjusted according to the background color, and the color optimization algorithm will make sure colorful text always clear and readable:


Heartbeat Keep-alive
If you find your connection got stuck, and didn't reconnect automatically after have a cup of coffee, please check ServerAliveInterval and ServerAliveCountMax advanced options in host settings, make sure they have the values.
In this update, by default for newly created host, we set values of above options to:
ServerAliveInterval 15
ServerAliveCountMax 3

Fixed
Remove Limitation
Host number limitation has been removed for Core Shell (Basic).
iCloud not Available
Sync with Folder should never give "iCloud not available" message, this issue was reported by Adam Oczos(@adam.oczos), thanks a lot!
Others
Fix a potential issue may lead crashes.